When designing or managing a project, there are so many elements trying to fight for your focus. Because of large project scopes, some essential items are frequently forgotten. So here is a list of ancillary (accessory) products that can: 1. add to the overall design concept of a space, and 2. make the space more functional.
Waste Receptacles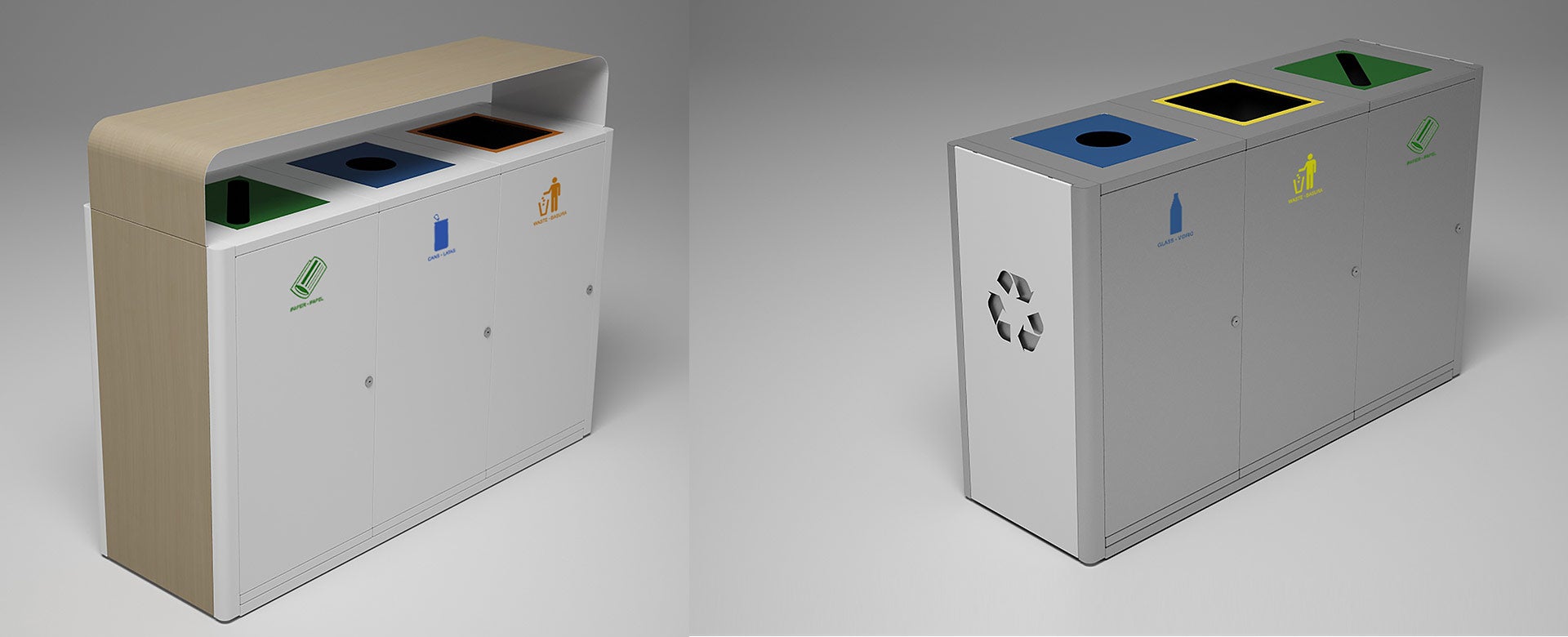 As a designer, I have seen so many "trashy" bins in really beautiful interiors. However, there are plenty of nice looking receptacles that can enhance a design scheme instead of being an eyesore. Magnuson Group provides 17 different styles of waste bins that can all be designed to match a color scheme, incorporate a company's logo and integrate different surface materials. 
Nevins is another company that designs beautiful waste bins, with the corporate environment in mind. They can also customize the bin combinations, surface materials, and labeling. 
Signage 

Takeform is a signage company that can create anything from bathroom signs to interactive signs to wall coverings and decals.  While being environmentally friendly, they are also extremely user friendly! Their design team is great to work with and they will incorporate any company logo or corporate colors into the signage. They have a vast project gallery and a Design Center that enables you to design your signs!
Coat Hooks

This accessory is one of my favorite things to add to an entry, lobby, locker area, office, or next to workstations! There are so many good choices that vary from contemporary to rustic to playful. Magnuson Group has a large collection of coat hooks with many applications. Some are wall mounted, standing, magnetic, or hook onto a cubicle panel. 

These coat trees by Hightower are both decorative and functional! They can come with a stand or mount to the wall, in black or white.  
Magazine Racks and Pamphlet Displays

This is an item that is often an afterthought, and thus magazines are usually displayed in a fragile plastic pocket mounted on the wall. For some applications this may do the job, but if your company has any pamphlets, books, magazines or projects that you want to show off, you need something to promote your work. There are such a variety of wall mounted and standing displays out there, that it is worth looking into! Hightower has designed two magazine displays (the two center items), and Magnuson Group also has some great visual display options for books, brochures, magazines, and tablets. 
Storage Tools

These items may not be something you  think about much, but they add a nice touch for your clients and employees! Umbrella stands are perfect for lobbies or waiting rooms when customers or clients are frequently stopping by. It gives them a place to leave their umbrella by the door and not track water into the building or get themselves wet. This geometric umbrella stand from Magnuson Group, is unique, classy and sure to make a statement!
My last advice is to supply your employees with tools at their workstation to organize their things. This can be a good way to motivate employees to maintain a tidy desk, which your clients will notice when they walk by a cubicle or workstation. Most casegood and cubicle manufacturers offer storage tools that integrate into their products. But these are usually not specified and therefore aren't put into the project's budget, so make sure to ask about them early in the planning phase. Just keep in mind that budgeting for these smaller details can make a big difference. 
Happy Designing!